Jubilee Concert | Vienna 2020
The orchestra Klangvereinigung Wien celebrates its 10th birthday this year. For this reason, a concert took place on the 29th of February in the Mozart-Saal of the Wiener Konzerthaus shortly before the cultural lock-down due to the pandemic.
It was a nostalgic moment, when members of the orchestra sat down on the stage, who played together for more than 10 years. After the applause faded away, the celli and the double basses began with the first bars arising out of silence with the head motif of the Triple Concerto by Ludwig van Beethoven. Everyone on the stage was tensed and concentrated. The concert, written in the festive character of C-Major, filled the historic ambiance of the blue-golden concert-hall with its wonderful sound. It was the gift of the orchestra and the Trio Artio to Beethoven's 250th birthday in 2020.
The Trio, consisting of Judith Fliedl (violin), Christine Roider (violoncello) and Johanna Estermann (piano) have played together since 2017 and were the featured artists of the Jeunesse in the concert-season 19/20. Beethoven's masterpiece was the perfect opportunity to merge with the young musicians of the Klangvereinigung.
The Triple Concerto was often criticized to not stand the ingenuity of Beethoven's artistic work, but if you study the score you find out how skillful he developed one motif to an unbelievably huge construction of three movements full of contrasts and ideas like in all his other pieces. The second and the third movement melt elegantly into each other like in his 5th Piano Concerto. The trio-part is charming and varied and makes you feel sitting in an intimidating chamber together with the three soloists. The majestic polonaise in the third movement finally prompts you to dance. It's still a rarely performed piece because you need a well-played trio. Through the Trio Artio the performance became a tremendous success.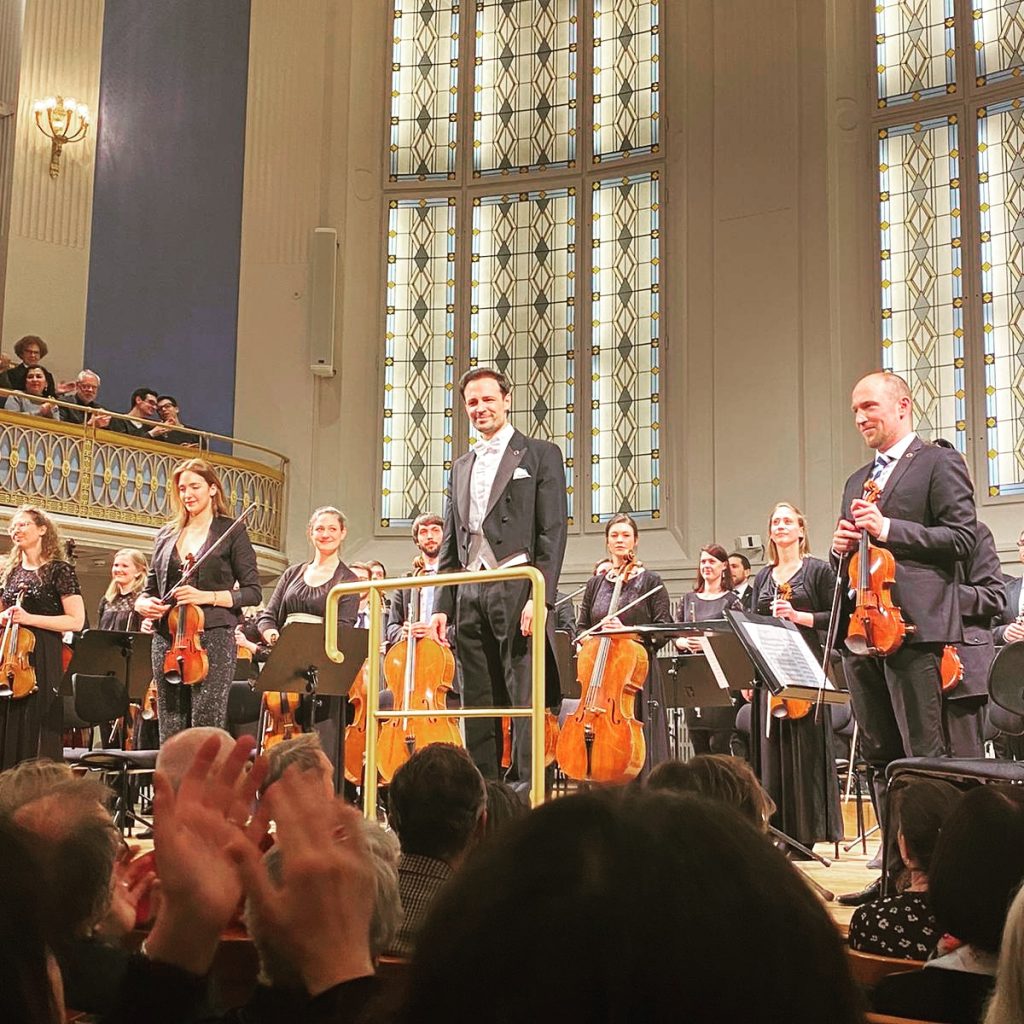 The 102nd Symphony of Joseph Haydn was the opener after the intermission. For his second tour to Great Britain Haydn prepared the symphonies No. 99 to No. 104. Beethoven was a student of Haydn in the same year when Haydn composed the performed symphony. The remarkable timbre in the second movement of the energetic piece, reached by orchestration with dampened trumpets and timpani as well as the solo-cello, was the starting point of the next epoch, the romanticism.
This wonderful piece of Haydn's oeuvre created the connection between Beethoven, Haydn and the following "Variations on a theme by Haydn" composed by Brahms, the successor of Beethoven's work.
Besides the historical line, Haydn's symphony and the variations of Brahms also match, because they were written in the same key of B-Major. From the chorale at the beginning until the majestic finale of the variations I felt nostalgic, because of many wonderful memories that came to my mind out of 10 years of Klangvereinigung.
---
On the media-page, you will find excerpts from the concert.